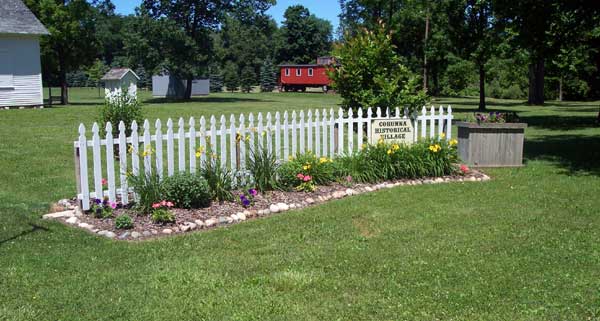 Imagine being able to go back in time to see what it was like 100 years ago. Take a step into the Corunna Historical Village of Shiawassee County. Stroll along the boardwalk, relax and enjoy the gardens, and wonder what history these buildings have witnessed over the years. Thanks to the efforts of two organizations, the Corunna Historical Commission and the Shiawassee County Historical Society, this village became a reality in 1990. The land was purchased from the Shiawassee County Agricultural Society with a state grant. The village is owned by the City of Corunna but It is maintained and operated by the Corunna Historical Commission whose appointed members are from throughout Shiawassee County. Important to providing financial support for the village is The Friends of the Corunna Historical Village of Shiawassee County (FOV) a not for profit 501 c 3 organization.  Members provide a yearly donation to assist the commission in its efforts.
Click Below for a Map to the Village
VILLAGE INFORMATION
The village is open the afternoon of
July 4th, the first two weekends in
December in the evenings,
and by appointment.
Guided Tours Available
(989)723-1204 or (810)610-0796
$3.00/person
No Parking on the village drive.
Additional links:
Shiawassee County Convention & Visitor Bureau
Shiawassee County Historical Society