Christmas in the Village:  2020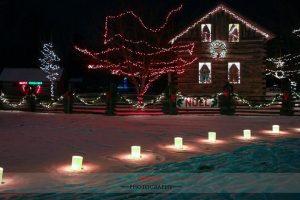 The village buildings are open the first two full weekends in December. Donations are appreciated.
Friday, December 4th: 7:00 to 9:00 p.m.  
Saturday, December 5th 6:00 to 9:00 p.m.
Sunday, December 6th: 6:00 to 9:00 p.m.
Friday, December 11th : 6:00 to 9:00 p.m.      
Saturday, December 12th : 6:00 to 9:00 p.m.  
Sunday, December 15th : 6:00  to 8:30 p.m. .

The outdoor Christmas lights will be on from the first part of December until sometime after Christmas for your drive through enjoyment.
  2020 4th of July: (Canceled due to Covid-19)
The village buildings will be open from 12:00 p.m. to 5:00 p.m. the afternoon of the 4th.  Activities in McCurdy Park occur all day and into the evening.  Fireworks are set off at approximately 10:00 p.m. from the sledding hill behind the village.  Members of the Friends of the Village may park in the Village Parking Area.
Tours:
The village is open for anyone wishing to walk through and see the gardens and take pictures. However, the buildings are not open unless a special event is taking place or a tour has been scheduled.
*School and group tours available, $3 per person
School Tour activities:
Village-Green Games include: Sack races, rope stilts, graces, roll the hoop, and jump rope.
Teachers may do lessons in our one room school house if desired.
An educational tour of village buildings.